Story: "Full Pull: On The Job and On The Track With Joe Eder"
Client: AGCO Corporation
Magazine story:
http://www.onlinedigitalpubs.com/publication/?i=260537&p=10
Web package: 
https://www.myfarmlife.com/features/full-pull-on-the-job-and-on-the-track-with-joe-eder/
"Everything's different in Louisville," says Barney Palmer, standing in the staging area in front of the GEICO 75th Edition, the modified tractor driven and built by four-time Louisville Grand Champion Joe Eder. ... Eder, the boss man, wearing a bright green and blue GEICO tracksuit and a mask of stoicism, agrees. "Run what you brung," says Eder, "and hope you brung enough."
Why it's compelling: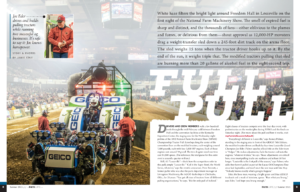 "Full Pull" is irresistible to gear-heads, and many readers and users in our client's audience would cry "Guilty!" to that moniker. While many landowners who own tractors work on the machines themselves, the subject of this story, Joe Eder,
builds
tractors, and is one of the most well known and most regarded racers and builders in the cult-like sport of tractor pulling.
While many readers would be familiar with the sport, just being on the track or in the shop with Joe would be unique enough to warrant a story, but like many subjects in Advanced Content pieces, Joe gives us so much time and access that the dive is deeper than the typical personality profile or sportswriting. As we've said in many of these "Anatomy" pieces: It's all about the customer. And Joe is one cool customer, in every conceivable sense of the term.
Why it's credible:
Besides being a champion himself—he just won his 5th national championship—Joe has built 21 other tractors that won either regional or national championships. In other words, he knows his stuff. Besides his pulling prowess, he's also a businessman: He runs a large business right across the road from his tractor shop, producing and selling more than 35,000 cubic yards of bark mulch a year. Seeing the business in operation is impressive.
How it's connected:
The connection Joe makes to the brand new piece of AGCO equipment he had just purchased before our visit to his shop was nothing short of brilliant (see it in the video above), and by the time he makes it, the reader realizes it's coming from an honest and trustworthy place. (
Research shows that readers find Advanced Content sources trustworthy at a remarkable rate of 93%.
This is not mere testimonial; that kind of trust only comes from a journalistic approach that reveals the character and credibility of the story subject.)
A consistent approach:
Besides appearing in the magazine, the story appeared on AGCO's corporate blog and Twitter account. Joe was a remarkable presence on video; he did such a fantastic job that the piece rendered three separate YouTube vids that captured thousands of qualified views.  It was also part of the portfolio
that helped us take Photographer of the Year and runner-up to Writer of the Year in the Ag Communications Awards
.