Story: "Farm, Family and Football"
Client: AGCO Corporation
Magazine story: http://www.onlinedigitalpubs.com/publication/?i=269832&p=14
Web package: http://www.myfarmlife.com/features/farm-family-and-football-inside-a-successful-dairy/
"Sport is not a specter in the Schwab family, not just an echo of past glories. It's business. Jason quite literally views his role at Schwab Dairy as head coach. And whether by intention or intuition (likely both), Jason follows, pretty much to the letter, the philosophies and processes of some of the most successful coaches in the sport. It's no secret that some of those philosophies and processes translate well to business, and to life."
Why it's compelling: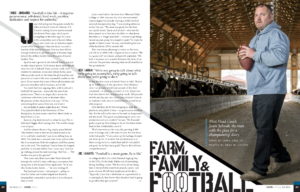 "Farm, Family and Football" is a personality profile, with a hint of process-driven business tips and, since this is ag journalism, a dairy success story to boot. But it can't not be compelling with a personality like Jason Schwab at the heart of the piece.
The names peppered throughout the piece—Lombardi, Saban, Carroll, Namath—are helpful for familiarity, but the quotes used aren't just inspirational-poster tripe. They fit perfectly with Schwab's philosophy. And who, whether they're a farmer or not, isn't thinking about football in the fall?
Why it's credible:
We've mentioned before in our series that sourcing customers for this FarmLife project—real farmers who know their stuff—is crucial. It's not often, though, that we get a subject with such a fascinating back story. Jason Schwab was a terrific interview (someday, I'd like to publish the audio from those sessions), and besides his inspirational and occasionally heart-breaking past, his acumen as a motivator is undeniable. When he says he runs his business like a head coach, it's no joke; I'd invite him to do a locker room speech for my local high school team on any given Friday. So this was a story that wasn't just about a successful customer (though he's certainly that); it's a story about an authentic life on the farm—success, tragedy and all.
How it's connected:
By the time we get to Schwab's endorsement of the AGCO equipment he owns, along with his praise of their services, we know enough about his expectations to make his product statements powerful. The last line of the story proper sets up the equipment sidebar well: "We don't like fourth-quarter breakdowns."
A consistent approach:
Schwab is so well-known regionally and so well-liked by his peers that the social media component to this story had a great deal of organic potential. Thousands of likes and hundreds of shares later (rare for a story about commercial farming), that organic potential was realized, and resulted in the third best day of traffic in the history of the destination website, myFarmLife.com. Dairy farming is a specialized discipline, but Schwab's success story had broad appeal: In the magazine, the readership score was 15 points higher than the average score for a story about dairy farming. The story appeared on AGCO's corporate blog and Twitter account. It also won First Place in the Personality Profile category in the Ag Communications Awards.